| | | |
| --- | --- | --- |
| | | |


ROOMS#1 -itarian jazz lounge style- /Selected by Daijito Tomita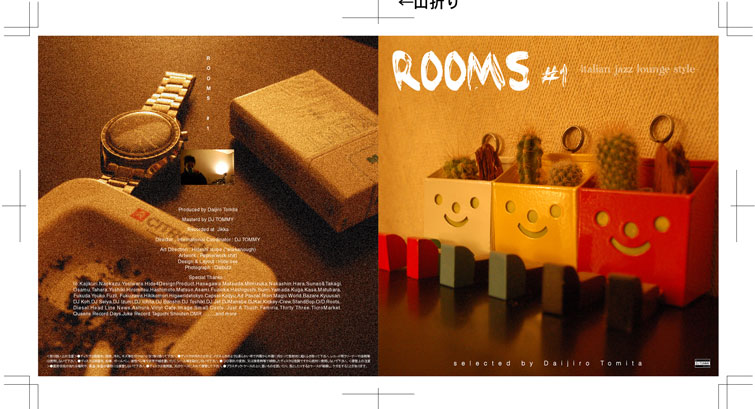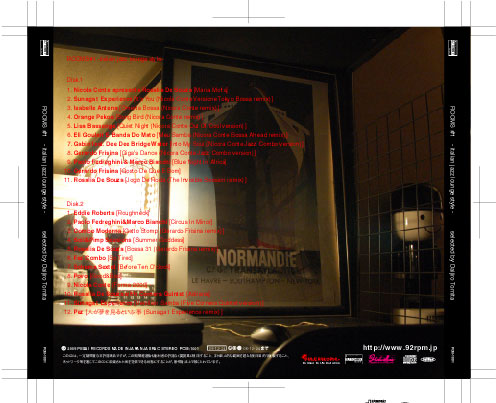 [Disk.1]
1.Nicola Conte apresenta Rosalia De Souza [Maria Moita]
2.Sunaga t Experience [It's You (Nicola Conte Versione Tokyo Bossa remix) ]
3.Isabelle Antena [Omerta Bossa (Nicora Conte remix) ] original


4.Orange Pekoe [Song Bird (Nicora Conte remix) ]
5.Lisa Bassenge [Quiet Night (Nicora Conte Out Of Cool version) ]
6.Eli Goulart E Banda Do Mato [Meu Samba (Nicora Conte Bossa Ahead remix) ] original->


7.Gabin feat. Dee Dee Bridge Water [Into My Soul (Nicora Conte Jazz Combo version) ]


8.Gerardo Frisina [Giga's Dance (Nicora Conte Jazz Combo version) ]
9.Paolo Fedreghini & Marco Bianchi [Blue Night In Africa]


10.Gerardo Frisina [Gosto De Que E Bom]


11.Rosalia De Souza [Jogo De Roda (The Invisible Session remix) ]



[Disk.2]
1.Eddie Roberts [Roughneck]
2.Paolo Fedreghini&Marco Bianchi [Circus In Minor]


3.Combo Moderna [Getto Stomp (Gerardo Frisina remix) ]
4.Soil&Pimp Sessions [Summer Goddess]
5.Rosalia De Souza [Bossa 31 (Gerardo Frisina remix) ]


6.Fez Combo [So Tired]


7.Schema Sextet [Before Ten O'clock]
8.Povo [Good&Bad]


9.Nicola Conte [Forma 2000]


10.Rosalia De Souza with Corners Quintet [Adriana]


11.Sunaga t Experience [Versilian Samba (Five Corners Quintet version) ]
12.Pez [人が夢を見るといふ事 (Sunaga t Experience remix) ] original->




Produced by Daijiro Tomita
Masterd by DJ TOMMY
Recorded at Jikka
Director , International Coodinator : DJ TOMMY

Art Direction : Hideshi Isobe (*workenough)
Artwork : Pepne(work shit)
Design & Layout : Hide.see
Photograph : Daibutz


ROOMS#2 -itarian jazz lounge style- / Selected by Daijito Tomita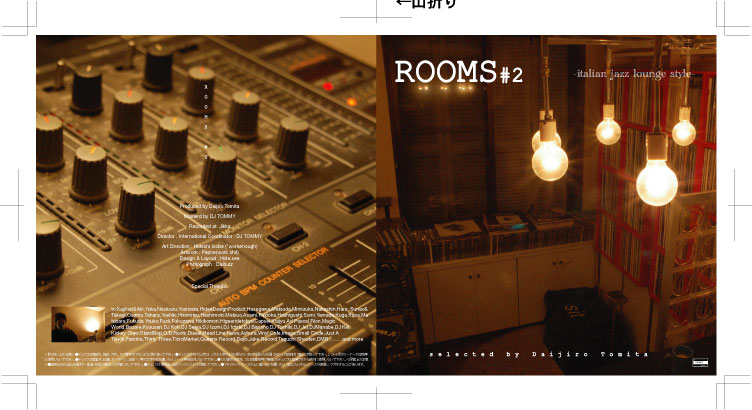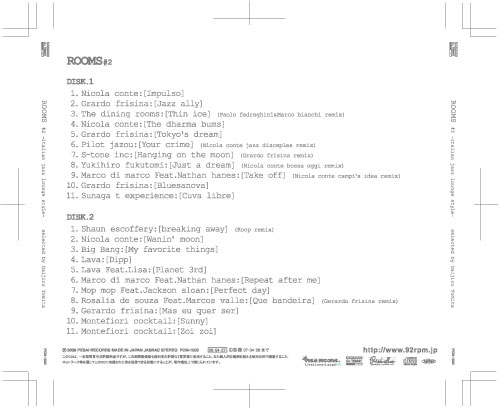 [Disk.1]
1.Nicola conte:[Impulso]
2.Grardo frisina:[Jazz ally]


3.The dining rooms:[Thin ice] (Paolo fedreghini&Marco bianchi remix)


4.Nicola conte:[The dharma bums]
5.Grardo frisina:[Tokyo's dream]


6.Pilot jazou:[Your crime] (Nicola conte jazz disceples remix) original->


7.S-tone inc:[Hanging on the moon] (Grardo frisina remix)


8.Yukihiro fukutomi:[Just a dream] (Nicola conte bossa oggi remix)
9.Marco di marco Feat.Nathan hanes:[Take off] (Nicola conte campi's idea remix) original->


10.Grardo frisina:[Bluesanova]


11.Sunaga t experience:[Cuva libre]

[Disk.2]
1.Shaun escoffery:[breaking away] (Koop remix)


2.Nicola conte:[Wanin' moon]
3.Big Bang:[My favorite things]


4.Lava:[Dipp]
5.Lava Feat.Lisa:[Planet 3rd]
6.Marco di marco Feat.Nathan hanes:[Repeat after me]


7.Mop mop Feat.Jackson sloan:[Perfect day]
8.Rosalia de souza Feat.Marcos valle:[Que bandeira] (Gerardo frisina remix)
9.Gerardo frisina:[Mas eu quer ser]


10.Montefiori cocktail:[Sunny]


11.Montefiori cocktail:[Zoi zoi]




Produced by Daijiro Tomita
Masterd by DJ TOMMY
Recorded at Jikka
Director , International Coodinator : DJ TOMMY

Art Direction : Hideshi Isobe (*workenough)
Artwork : Pepne(work shit)
Design & Layout : Hide.see
Photograph : Daibutz


ROOMS#2 -HOUSE MIX- / Selected by Daijito Tomita , Co-selected by Akira Manabe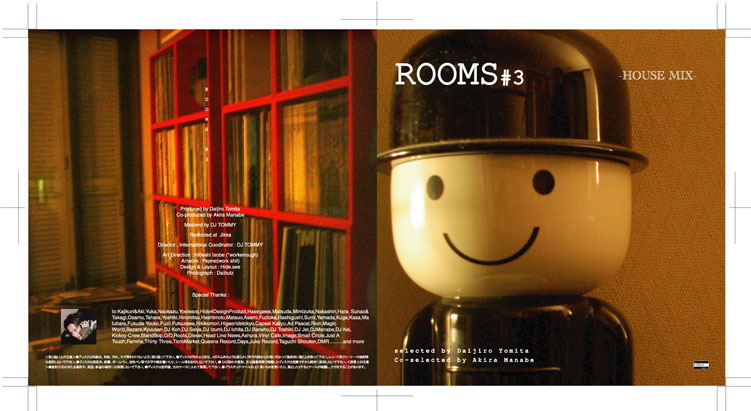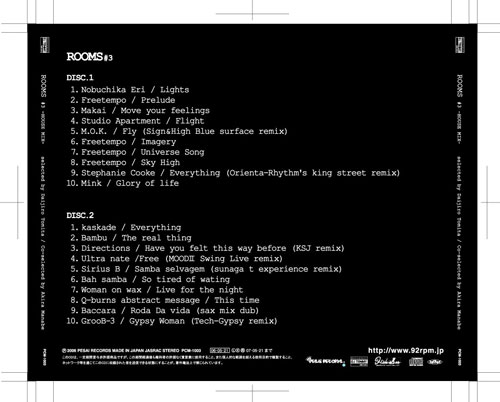 [disk.1]
1. Nobuchika Eri / Lights
2.Freetempo / Prelude
3.Makai / Move your feelings
4.Studio Apartment / Flight


5.M.O.K. / Fly (Sign&High Blue surface remix)


6.Freetempo / Imagery
7.Freetempo / Universe Song
8.Freetempo / Sky High
9.Stephanie Cooke / Everything (Orienta-Rhythm's king street remix) original->


10.Mink / Glory of life



[disk.2]
1.kaskade / Everything
2.Bambu / The real thing
3.Directions / Have you felt this way before (KSJ remix)
4.Ultra nate /Free (MOODII Swing Live remix) original->


5.Sirius B / Samba selvagem (sunaga t experience remix) oroginal->


6.Bah samba / So tired of wating


7.Woman on wax / Live for the night
8.Q-burns abstract message / This time


9.Baccara / Roda Da vida (sax mix dub)
10.GrooB-3 / Gypsy Woman (Tech-Gypsy remix)




Produced by Daijiro Tomita
Co-produced by Akira Manabe
Masterd by DJ TOMMY
Recorded at Jikka
Director , International Coodinator : DJ TOMMY

Art Direction : Hideshi Isobe (*workenough)
Artwork : Pepne(work shit)
Design & Layout : Hide.see
Photograph : Daibutz


Times1 / Selected by Daijito Tomita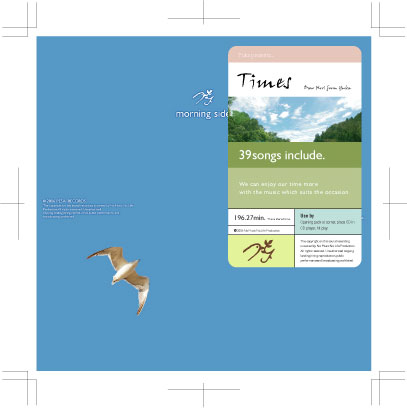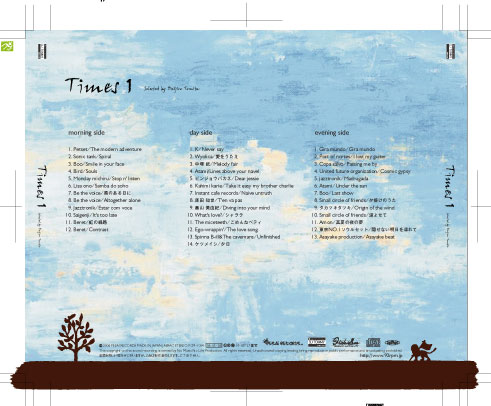 [morning side]
1.Petset/The modern adventure
2.Sonic tank/Spiral
3.Boo/Smile in your face
4.Bird/Souls
5.Monday michiru/Stop n' listen


6.Lisa ono/Samba do soho
7.Be the voice/風のある日に
8.Be the voice/Altogether alone
9.Jazztronik/Estar com voce
10.Saigenji/It's too late


11.Beret/虹の線路
12.Beret/Contrast

[day side]
1.K/Never say
2.Wyolica/愛をうたえ
3.中塚 武/Melody fair
4.Atami/Lines above your navel
5.ビンジョウバカネ/Dear jessie
6.Kahimi karie/Take it easy my brother charlie


7.Instant cafe records/Naive untruth


8.原田 知世/T'en va pas
9.畠山 美由紀/Diving into your mind


10.What's love?/シャララ


11.The miceteeth/ごめんねベティ
12.Ego-wrappin'/The love song


13.Spinna B-ill&The cavemans/Unfinished
14.ケツメイシ/夕日

[evening side]
1.Gira mundo/Gira mundo


2.Port of nortes/I lost my guiter
3.Copa salvo/Passing me by


4.United future organization/Cosmic gypsy


5.jazztronik/Madrugada
6.Atami/Under the sun
7.Boo/Last show
8.Small circle of friends/夕焼けのうた


9.タカツキタツキ/Origin of the wind


10.Small circle of friends/波よせて


11.Amon/真夏の夜の夢
12.東京NO.1ソウルセット/隠せない明日を連れて
13.Asayake production/Asayake beat


Produced by Daijiro Tomita
Masterd by DJ TOMMY
Recorded at Jikka
Director , International Coodinator : DJ TOMMY

Art Direction : Hideshi Isobe (*workenough)
Artwork : Pepne(work shit)
Design & Layout : Hide.see
Photograph : Daibutz


*Birth* / Selected by Daijito Tomita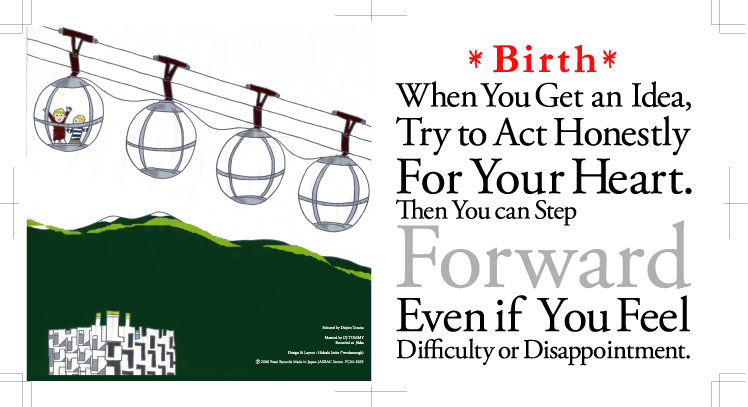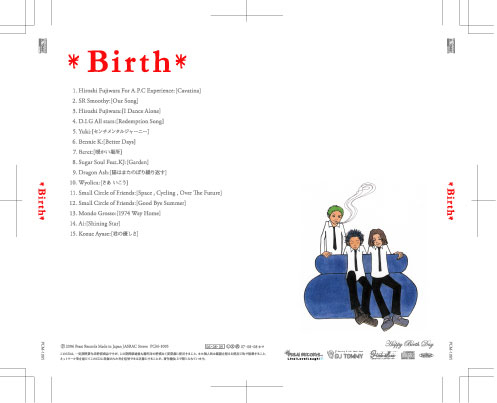 1.Hiroshi Fujiwara For A.P.C Experience:[Cavatina]
2.SR Smoothy:[Our Song]
3.Hiroshi Fujiwara:[I Dance Alone]
4.D.I.G All stars:[Redemption Song]
5.Yuki:[センチメンタルジャーニー]
6.Bennie K:[Better Days]
7.Beret:[暖かい場所]
8.Sugar Soul Feat.KJ:[Garden]
9.Dragon Ash:[陽はまたのぼり繰り返す]


10.Wyolica:[さあ いこう]
11.Small Circle of Friends:[Space Cycling Over The Future]


12.Small Circle of Friends:[Good Bye Summer]


13.Mondo Grosso:[1974 Way Home]
14.Ai:[Shining Star]
15.Kozue Ayase:[君の優しさ]




Produced by Daijiro Tomita
Masterd by DJ TOMMY
Recorded at Jikka
Director , International Coodinator : DJ TOMMY

Art Direction : Hideshi Isobe (*workenough)
Artwork : Pepne(work shit)
Design & Layout : Hide.see
Photograph : Daibutz


Flights -melodic storm- / Selected by Daijito Tomita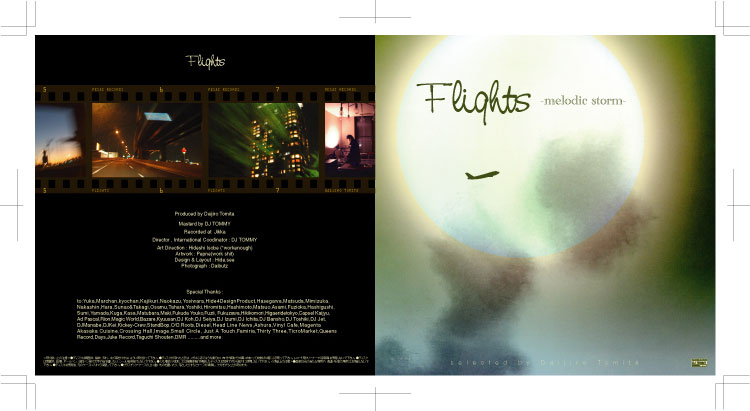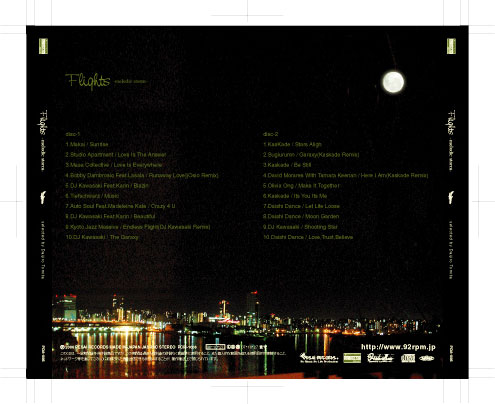 disc-1
1.Makai / Sunrise
2.Studio Apartment / Love Is The Answer


3.Masa Collective / Love Is Everywhere


4.Bobby Dambrosio Feat.Lasala / Runaway Love(Osio Remix)
5.DJ Kawasaki Feat.Karin / Blazin


6.Tiefschwarz / Music
7.Auto Soul Feat.Madeleine Kate / Crazy 4 U
8.DJ Kawasaki Feat.Karin / Beautiful


9.Kyoto Jazz Massive / Endless Flight(DJ Kawasaki Remix)


10.DJ Kawasaki / The Garaxy



disc-2
1.KasKade / Stars Aligh


2.Sugiurumn / Garaxy(Kaskade Remix)
3.Kaskade / Be Still


4.David Morares With Tamara Keenan / Here I Am(Kaskade Remix)
5.Olivia Ong / Make It Together
6.Kaskade / Its You Its Me


7.Daishi Dance / Let Life Loose


8.Daishi Dance / Moon Garden


9.DJ Kawasaki / Shooting Star


10.Daishi Dance / Love,Trust,Believe




Produced by Daijiro Tomita
Masterd by DJ TOMMY
Recorded at Jikka
Director , International Coodinator : DJ TOMMY

Art Direction : Hideshi Isobe (*workenough)
Artwork : Pepne(work shit)
Design & Layout : Hide.see
Photograph : Daibutz


ROOMS#4 / Selected by Daijito Tomita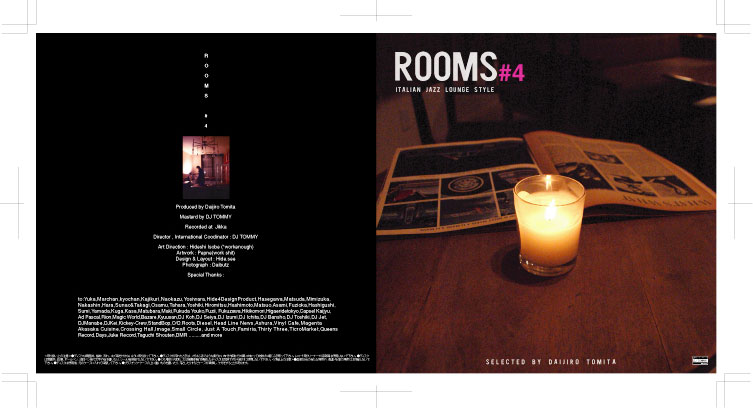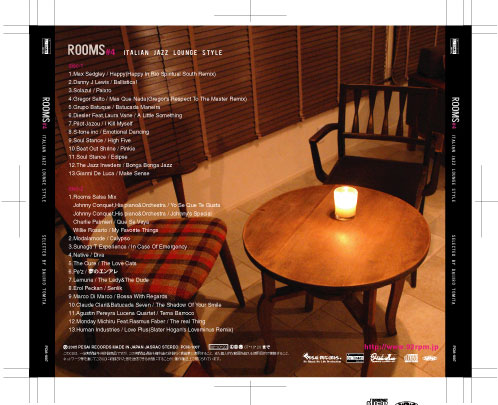 disc-1
1.Max Sedgley / Happy(Happy In Rio Spiritual South Remix)


2.Danny J Lewis / Ballistica!


3.Solazul / Paixro
4.Gregor Salto / Mas Que Nada(Gregor's Respect To The Master Remix)
5.Grupo Batuque / Batucada Maneira


6.Diesler Feat,Laura Vane / A Little Something
7.Pilot Jazou / I Kill Myself
8.S-tone inc / Emotional Dancing


9.Soul Stance / High Five
10.Beat Out Shrine / Pinkie


11.Soul Stance / Edipse
12.The Jazz Inveders / Bonga Bonga Jazz
13.Gianni De Luca / Make Sense



disc-2
1.Rooms Salsa Mix
Johnny Conquet,His piano&Orchestra / Yo Se Que Te Gusta
Johnny Conquet,His piano&Orchestra / Johnny's Special
Charlie Palmieri / Que Se Vaya


Willie Rosario / My Favorite Things
2.Modalamode / Calypso
3.Sunaga T Experience / In Case Of Emergency


4.Native / Diva
5.The Cure / The Love Cats


6.Pe'z / 夢のエンアレ


7.Lemuria / The Lady&The Dude
8.Erol Peckan / Senlik
9.Marco Di Marco / Bossa With Regards


10.Claude Clari&Batucada Seven / The Shadow Of Your Smile
11.Agustin Pereyra Lucena Quartet / Tema Barroco
12.Monday Michiru Feat.Rasmus Faber / The real Thing
13.Human Industries / Love Plus(Slater Hogan's Loveminus Remix)


Produced by Daijiro Tomita
Masterd by DJ TOMMY
Recorded at Jikka
Director , International Coodinator : DJ TOMMY

Art Direction : Hideshi Isobe (*workenough)
Artwork : Pepne(work shit)
Design & Layout : Hide.see
Photograph : Daibutz

All MIX-CD is Not for Sale , that's a thing only for sake to enjoy with an individual.
Copyright c 2006 92rpm All Rights Reserved.